Town Board Meetings will now be recorded. See the latest meeting below.
Gregory Capria Eagle Scout Project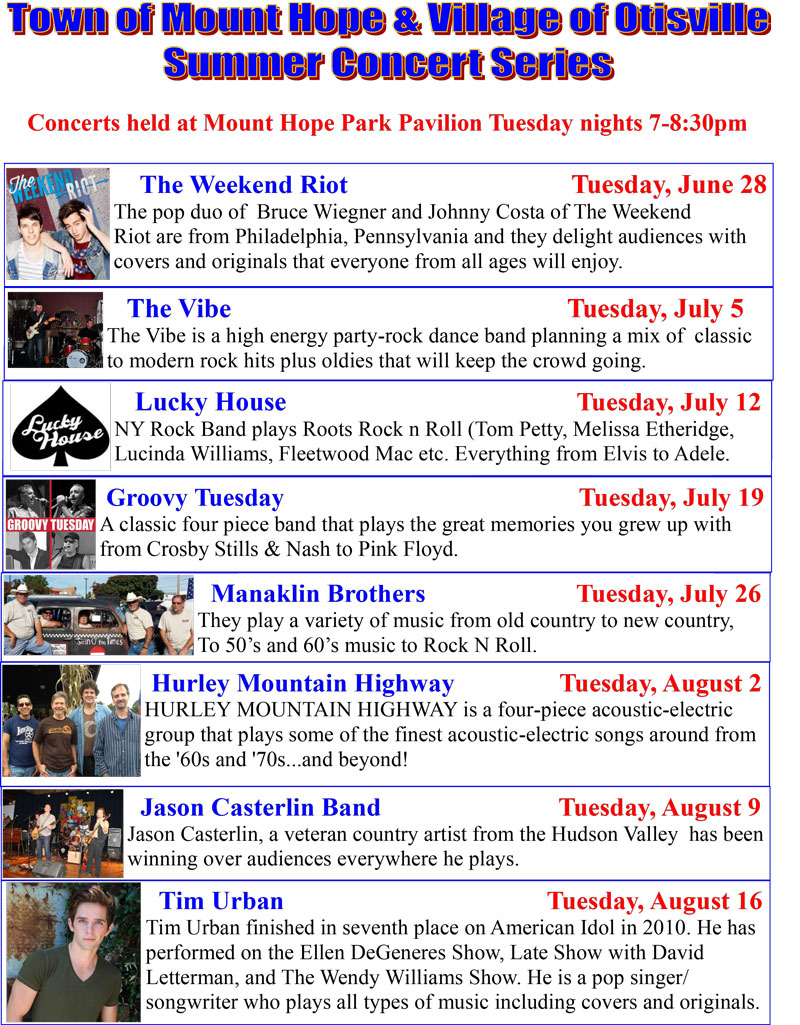 Otisville – Mt. Hope  ~  2016 Summer Youth Recreation Program
Program Director:  Lisa Emanuele – Medical Director:  Dee Villanueva
Camp Dates:  Tuesday, July 5th – Friday, August 12th
Camp Hours:  Monday – Friday, 9 a.m. – 3 p.m.
Age Requirement:
Minimum:   must have attended Kindergarten during current school year
Maximum:  must be no more than 14 years of age on July 1, 2016Eligibility:  All age appropriate children residing in Otisville or Mount Hope are eligible to register for the program.  Children residing outside the Village of Otisville or the Town of Mount Hope, but within the Minisink Valley School District, will be permitted to register only if space permits.  Priority will be given to Otisville/Mount Hope residents and students attending the Otisville Elementary School.
Registration Fees are for the entire six-week program and are non-refundable.
               Residents                                      Non-Residents
1 child                                         $400                                                    $700
2 children                                    $500                                                   $900
3 children                                    $600                                                   $1000
Each additional child                   $100                                                $100
Latch Key per child                      $300                                                $300
** A latch key program from 3-5pm Monday thru Friday for 6 weeks for an additional $300.00 per child will be instituted. All additional fees are due at time of registration no exceptions. Registrations after May 17th will incur a $20 additional fee.
Items you must bring to registration:
** Proof of residency (two forms)
** For those residing outside the Village or Town – proof of residence in the MVSD
** Current immunization records from your doctor, for each child
** A check for the registration fees made payable to the Town of Mount Hope.  All fees are due in full at the time of registration; post-dated checks cannot be accepted.
Registration Forms:
Registration forms will be available at registration but can also be downloaded from the Town website. www.townofmounthope.org
Registration Location:   1706 Route 211W, Otisville, New York 10963
Print this Information (PDF): Summer rec Registration Announcement
2016 Summer Rec Program Forms
(Complete this form and send for the attention of: Angela Cangialosi. Please note: Councilors applying for the jobs need to have 2 letters of recommendation attached to their applications.)
---
Supervisor
Chad Volpe (supervisor@townofmounthope.org)
Phone: 845-386-2211
Town Clerk
Phone: 845-386-1460
Fax: 845-386-1100
Contact: Kathleen A. Myers
Email: mhclerk@frontier.com
Deputy Town Clerk
Phone: 845-386-1460
Fax: 845-386-1100
Contact: Paula Bird
Email: pbird@townofmounthope.org
Save
Save
Save
Save
Save
Save
Save
Save
Save